The top 30 best selling records ever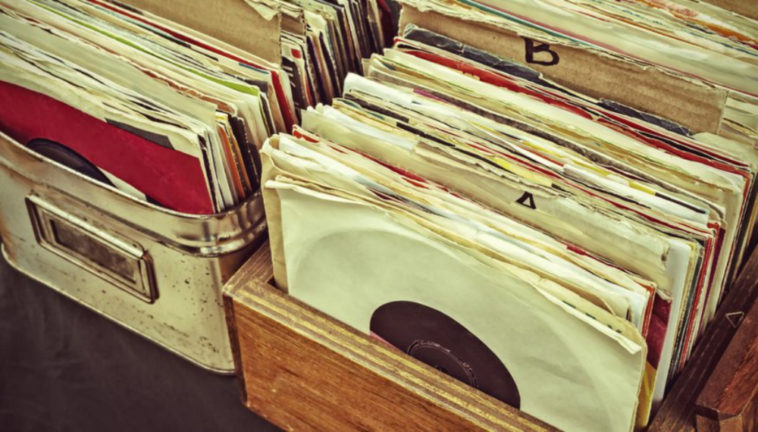 This list of the 30 best selling singles in the world reveals three Christmas hits, three charity singles, four film theme songs, novelty records and artists from Japan, Germany, Africa, Italy, Sweden, the UK and US.
ABBA 'Fernando'
Estimated sales 10m. Released 1975
Composed by Benny Andersson and Björn Ulvaeus the song carried the working title of 'Tango'. 'Fernando' was not originally released as an ABBA song but as a solo single by band member Anni-Frid Lyngstad – featured on her 1975 solo album Frida ensam. The English version, with completely different lyrics presents a vision of nostalgia for two veterans reminiscing in old age about a lost battle in which they participated.
Roger Whittaker 'The Last Farewell'
Estimated sales 11m. Released 1975
British folk singer Roger Whittaker hosted a radio programme in the UK in 1971, and would invite listeners to send their poems or lyrics in and he would attempt to make songs out of them. Ron A. Webster, a silversmith from Birmingham sent Whittaker his poem entitled 'The Last Farewell', and this became one of the selections to appear on the radio programme. It was subsequently recorded and featured on Whittaker's 1971 album New World in the Morning. Released as a single 'The Last Farewell' went to number one in 11 countries including the US.
Mills Brothers 'Paper Doll'
Estimated sales 11m. Released 1943
The Mills Brothers (originally known as the Four Kings of Harmony) were an African-American jazz and pop vocal quartet who made more than 2,000 recordings that sold more than 50 million copies. 'Paper Doll' has been named one of the Songs of the Century and has been inducted into the Grammy Hall of Fame.
George McCrae 'Rock Your Baby'
Estimated sales 11m. Released 1974
Written and produced by Harry Wayne Casey and Richard Finch of KC and the Sunshine Band, 'Rock Your Baby' was one of the landmark recordings of early disco music and was also one of the first records to use a drum machine – an early Roland rhythm machine. The backing track for the record was recorded in 45 minutes as a demo. The chord progression of John Lennon's 'Whatever Gets You thru the Night', released a few months later, bears a great resemblance to the one found in 'Rock Your Baby' and Lennon later admitted to using the song as an inspiration.
Carl Douglas 'Kung Fu Fighting'
Estimated sales 11m. Released 1974
'Kung Fu Fighting' was originally meant to be a B-side recorded quickly in the last ten minutes of studio time in only two takes. The song, which uses the quintessential Oriental riff, a short musical phrase that is used to signify Chinese culture was released as a single in 1974 on the cusp of a chopsocky film craze. The follow-up 'Dance the Kung Fu' did not crack the Top 40.
Cher 'Believe'
Estimated sales 11m. Released 1998
Lifted from her twenty-second album of the same name, it became her fourth number one single and made Cher the oldest female artist (at the age of 52) to perform this feat. The song featured a pioneering use of the audio processing software Auto-Tune to create a deliberate vocal distortion, which became known as the 'Cher effect'. 'Believe' also was ranked as the number-one song of 1999 by Billboard and became the biggest single in her entire career.
Band Aid 'Do They Know It's Christmas?'
Estimated sales 11.5m. Released 1984
Written by Bob Geldof and Midge Ure in reaction to television reports of the 1983–1985 famine in Ethiopia. It was recorded in a single day on 25 November 1984 by Band Aid. The record became the fastest selling single in UK chart history, selling a million copies in the first week alone and passing three million sales on the last day of 1984. The supergroup consisting mainly of the biggest British and Irish musical acts at the time included, Bono, Simon Le Bon, Sting, Paul Weller, George Michael, Phil Collins, Spandau Ballet and others.
Village People 'Y.M.C.A.'
Estimated sales 12m. Released 1978
The group's name refers to New York City's Greenwich Village, at the time known for its large gay population. The characters in the group were a symbolic group of American masculinity and macho gay-fantasy personas. Upon its release, the YMCA threatened to sue the band over trademark infringement. The song (and dance) has remained popular at parties, sporting events, weddings, and functions ever since. In 2009, 'Y.M.C.A.' set a Guinness World Record when over 44,000 people danced to Village People's live performance of the song at the 2008 Sun Bowl game in El Paso, Texas.
Andrea Bocelli and Sarah Brightman 'Time to Say Goodbye'
Estimated sales 12m. Released 1996
Following a football accident, Italian opera singer Andrea Bocelli was diagnosed with congenital glaucoma, becoming completely blind at age 12. This single was first released in 1995, topping the charts in France, where it became one of the best-selling singles of all-time. A second version of the song, sung partly in English, released in 1996 as 'Time to Say Goodbye', paired Bocelli with British soprano Sarah Brightman, and achieved even greater success, topping charts all across Europe, including Germany, where it became the biggest-selling single in history.
The Beatles 'I Want to Hold Your Hand'
Estimated sales 12m. Released 1963
With advance orders exceeding one million copies The Beatles 'I Want to Hold Your Hand' would have gone straight to the top of the British charts on its day of release (29 November 1963) had it not been blocked by the group's first million seller 'She Loves You', their previous UK single. A week later it reached the top of the charts and became the first instance of an act taking over from itself at number one in British chart history. 'I Want to Hold Your Hand' was also the group's first American number one hit and starting the British invasion of the American music industry.
Gene Autry 'Rudolph the Red-Nosed Reindeer'
Estimated sales 12.5. Released 1949
The song was first sung by crooner Harry Brannon on New York City radio in early November 1949, before Gene Autry's recording hit number one in the US charts during Christmas 1949. The song was first suggested as a 'B' side for a record Autry was making and Autry rejected the song. His wife later convinced him to use it.
Trio 'Da Da Da'
Estimated sales 13m. Released 1982
'Da Da Da I Don't Love You You Don't Love Me Aha Aha Aha' (usually shortened to 'Da Da Da') is a song by the German band Trio. The song became a hit in Germany and over 30 other countries, selling 13 million copies worldwide. The song gained further chart success in when it was featured in a US Volkswagen commercial.
Kyu Sakamoto 'Sukiyaki'
Estimated sales 13m. Released 1963
This song by Japanese crooner Kyu Sakamoto, was first released in Japan in 1961. The song topped the charts in several countries, including the Billboard Hot 100 in 1963. Sukiyaki refers to a Japanese hot-pot dish with cooked beef, does not appear in the song's lyrics, nor does it have any connection to them; it was used only because it was short, catchy, recognizably Japanese, and more familiar to English speakers. Sakamoto, along with 519 others on board the flight, was killed in the crash of Japan Airlines Flight 123 on 12 August 1985; the deadliest single-aircraft accident to date. His number one hit song had lyrics which translate to 'Happiness lies beyond the clouds' and 'Happiness lies up above the sky'.
Prince Nico Mbarga 'Sweet Mother'
Estimated sales 13m. Released 1976
Prince Nico Mbarga, was a highlife musician, born to a Nigerian mother and a Cameroonian father in Abakaliki, Nigeria. 'Sweet Mother' remains one of the most popular songs in Africa and was voted Africa's favourite song by BBC readers and listeners in 2004. Prince Nico Mbarga was killed in a motorcycle accident on 24 June 1997.
Gloria Gaynor 'I Will Survive'
Estimated sales 14m. Released 1978
American singer Gloria Gaynor is best known for the disco era hits 'I Will Survive', 'Never Can Say Goodbye' and 'I Am What I Am. 'I Will Survive' is also frequently recalled as a symbol of female strength and as a gay anthem. In 2016, the Library of Congress deemed Gaynor's original recording to be 'culturally, historically, or artistically significant' and selected it for preservation in the National Recording Registry.
Scorpions 'Wind of Change'
Estimated sales 15m. Released 1991
This power ballad by the German rock band Scorpions holds the record for the best-selling single by a German group. It was released just after the failed coup that would eventually lead to the collapse of the Soviet Union. The song topped the charts in Germany and across Europe and peaked at number four in the United States and number two in the United Kingdom. In 1991 the band presented a gold record and $70,000 of royalties from the single to Mikhail Gorbachev the President of the Soviet Union (1990 to 1991).
John Travolta and Olivia Newton-John 'You're the One That I Want'
Estimated sales 15m. Released 1978
'You're the One That I Want' was one of the two singles, along with 'Hopelessly Devoted to You', written by Australian producer and musician John Farrar specifically for Newton-John's appearance in the 1978 film version of the musical Grease. The album Grease: The Original Soundtrack from the Motion Picture has sold over 38 million copies worldwide, making it one of the best selling albums of all time, also ranking amongst the biggest selling soundtrack albums of all time.
Bryan Adams '(Everything I Do) I Do It for You'
Estimated sales 15m. Released 1991
Featured on the soundtrack album from the 1991 film Robin Hood: Prince of Thieves '(Everything I Do) I Do It for You' spent seven weeks at number one on the Billboard Hot 100 and sixteen consecutive weeks at number one on the UK Singles Chart (the longest in British chart history). Bryan Adams has stated that the song took around 45 minutes to write.
Mariah Carey 'All I Want for Christmas Is You'
Estimated sales 16m. Released 1994
'All I Want for Christmas Is You' was the lead single from her fourth studio album and first holiday album, Merry Christmas (1994). The song has become the best-selling modern day Christmas song and has is the best selling Christmas single by a female artist. As of 2017, the song was reported to have earned Carey and her co-writer Brazilian-American musician Walter Afanasieff $60 million in royalties.
Celine Dion 'My Heart Will Go On'
Estimated sales 18m. Released 1997
The main theme song to James Cameron's blockbuster film Titanic, with worldwide sales estimated at 18 million copies, it became the second best-selling single by a female artist in history, (after 'I Will Always Love You' by Whitney Houston). When Celine Dion originally heard the song, she did not want to record it as she felt she was pushing her luck by singing another film theme song after Beauty and the Beast. Dion's manager and husband René Angélil convinced her to sing on the demo version, Head of Sony Music Entertainment Tommy Mottola claimed that Dion recorded the song in one take, and that demo is what was released.
Baccara 'Yes Sir, I Can Boogie'
Estimated sales 18m. Released 1977
Baccara was composed of Spanish flamenco dancers Mayte Mateos and Maria Mendiola. They were discovered on the island of Fuerteventura by RCA Records executive Leon Deane who saw them dancing flamenco and singing traditional songs for tourists; he subsequently signed them to the label. A major hit across Europe 'Yes Sir, I Can Boogie' became the duo's sole number one single in the UK. It became the best-selling singles of all-time by a female group, eventually selling more than 18 million copies worldwide.
The Ink Spots 'If I Didn't Care'
Estimated sales 19m. Released 1939
American songwriter Jack Lawrence introduced the world to The Ink Spots when they recorded his song, 'If I Didn't Care' in 1939. 'If I Didn't Care' is the song playing on the radio during the opening of The Shawshank Redemption as Andy Dufresne (Tim Robbins) is sitting in his car with his gun contemplating his next steps to confront his wife and her lover. Lawrence later wrote a song titled 'Linda' for the then-five-year-old daughter of his attorney, Lee Eastman. Linda Eastman later became world famous as the first wife of Beatle Paul McCartney.
USA for Africa 'We Are the World'
Estimated sales 20m. Released 1985
The idea for the creation of an American benefit single for African famine relief came from activist Harry Belafonte following Band Aid's 1984 'Do They Know It's Christmas?' The charity single was recorded by the supergroup United Support of Artists (USA) for Africa and was written by Michael Jackson and Lionel Richie. The track features over 40 American stars including, Stevie Wonder, Paul Simon, Bruce Springsteen, Daryl Hall, Bob Dylan and Diana Ross.
Elvis Presley 'It's Now or Never'
Estimated sales 20m. Released 1960
'It's Now Or Never' is one of two popular songs based on the Italian song of Neapolitan language ''O Sole mio' the other being 'There's No Tomorrow'. The single is the second best-selling single by Elvis, and his biggest international selling single. American soul singer and producer Barry White credited this song as his inspiration for changing his life and becoming a singer following his release from prison.
Whitney Houston 'I Will Always Love You'
Estimated sales 20m. Released 1992
Originally written and recorded in 1973 by Dolly Parton, her country version was released in 1974. Houston recorded her version for the 1992 film The Bodyguard. It was her co-star Kevin Costner who suggested featuring the song in the film after introducing Houston to Linda Ronstadt's 1975 version of the song. This single spent 14 weeks at number one making it one of the best-selling singles of all time. It also holds the record for being the best-selling single by a woman in music history.
Bill Haley & His Comets 'Rock Around the Clock'
Estimated sales 25m. Released 1954
'Rock Around The Clock' is widely considered to be the song that, more than any other, brought rock and roll into mainstream culture around the world. Bill Haleyand His Comets recorded this classic on April 12, 1954 in two takes at Pythian Temple studios, 135 West 70th Street, New York City.
Bing Crosby 'Silent Night'
Estimated sales 30m. Released 1935
Composed in 1818 by Franz Xaver Gruber to lyrics by Joseph Mohr in the small town of Oberndorf bei Salzburg, Austria, the song was first performed on Christmas Eve 1818 at St Nicholas parish church in Oberndorf, Austria. 'Silent Night' has been recorded by many singers across many music genres. The version sung by Bing Crosby in 1935 is the fourth best-selling single of all-time.
Mungo Jerry 'In the Summertime'
Estimated sales 30m. Released 1970
Mungo Jerry singer Ray Dorset has said that 'In the Summertime' took only ten minutes to write on a second-hand Fender Stratocaster while he was taking time off work from his regular job, working in a laboratory for Timex. It became one of the best-selling singles of all-time. The UK release was unusual in that it was a maxi single, playing at 33-1/3 rpm, whereas singles generally played at 45 rpm. 'In the Summertime' reached number one in charts around the world, including seven weeks in the UK.
Elton John 'Candle in the Wind 1997'
Estimated sales 33m. Released 1997
This new version by Bernie Taupin and Elton John of their 1973 song 'Candle in the Wind' was released on 13 September 1997 as a tribute single to Diana, Princess of Wales, with the global proceeds from the song going towards Diana's charities. Produced by George Martin in many countries, it was pressed as a double A-side with 'Something About the Way You Look Tonight'. The opening lines of the 1973 version, 'Goodbye Norma Jean, though I never knew you at all,' were adapted to 'Goodbye England's rose, may you ever grow in our hearts.' Most of the lyrics were adapted to suit the circumstances of Diana's life and death.
Bing Crosby 'White Christmas'
Estimated sales 50m. Released 1942
The Irving Berlin song written in the heat of the California summer of 1940 is reminiscing about an old-fashioned Christmas setting. Recorded by Bing Crosby with the John Scott Trotter Orchestra and the Ken Darby Singers in 18 minutes on May 29, 1942, it is the world's best-selling single with estimated sales in excess of 50 million copies world-wide. It is said that when Irving Berlin came up with the idea for the song he told his secretary, "Grab your pen and take down this song. I just wrote the best song I've ever written — heck, I just wrote the best song that anybody's ever written!"
If you like to read about music check out our section of books from some of the biggest names in music.